Successful Treatment of Common Acne with 3 Months EPA/DHA
This article at a glance
This is the first controlled study to address the potential effectiveness of daily EPA/DHA for common acne in young adults.
The study reports — through both objective scores, and subjective assessment — decreased acne severity in young adults.
The results are supported by histological analyses that signal a reduction in pilosebaceous unit inflammation.
Future studies with improved masking of study subjects will be required to confirm the results.
Acne, or acne vulgaris, is a common skin disease in teenagers and young adults. It is most frequently found as scattered pimples in areas with a high density of sebaceous glands, such as the forehead and chin. In more serious forms of acne, papules and cysts can form, and they affect the skin in many parts of the body.
Acne
consists of visibly enlarged pilosebaceous units. The openings are filled with accumulated sebum, keratin protein and microbes, and are easily inflamed. Acne is perceived as visually distasteful, affects young people´s esteem, and can lead to scarring.

The mechanistic understanding of disturbed sebaceous gland function in acne has significantly
improved
in recent years. Various processes appear to be involved in the development and persistence of acne. Inflammation of the pilosebaceous unit appears to be a local tissue response to an overactive sebaceous gland activity (hyperseborrhea), characterized by overactive sebum formation, with occlusion of the pilosebaceous unit opening and further keratinization. Inflamed lesions are also
colonized
by specific
Propionibacterium acnes
and
Peptostreptococcus
bacterial species. A typical immune response to
P. acnes
also occurs in acne, with monocytes/macrophages involved in a predominantly TLR-2 mediated inflammatory response, as well as activation of a Th-17 type immune response. Reproductive hormones play an important role in sebaceous gland activity and the likelihood of developing acne, and are at least in part responsible for the variable level of acne incidence and severity among individuals at reproductive age. Effective treatments for acne vulgaris without side effects are an unmet need. A few studies have provided an indication that an inverse relationship between fish consumption and acne prevalence may exist. Several observational studies suggest that omega-3 LCPUFA supplementation can diminish
acne
, especially in moderate and severe acne. Omega-3 LCPUFA are involved in controlling the severity of other inflammatory
skin
diseases. A formal demonstration that omega-3 long-chain polyunsaturated fatty acid (omega-3 LCPUFA) dietary intake and acne incidence might be inversely related has not been made. Also, dedicated clinical studies to treat acne with omega-3 LCPUFA have not been carried out to date. A recent randomized and controlled trial has investigated the potential relative benefit of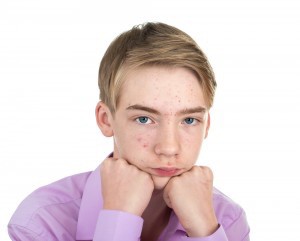 oral EPA/DHA treatment for acne vulgaris. The study was performed by
Jung and colleagues
from the Department of Dermatology, the Department of Food Service and Nutrition, and the Acne and Rosacea Laboratory, at Seoul National University College of Medicine and University Hospital, in collaboration with Oracle Dermatology Clinic, in Seoul, South Korea. The objective was to examine the effect of EPA/DHA intake as well as of gamma-linolenic acid (GLA) intake on existing facial acne in otherwise healthy volunteers. Forty-five volunteers with mild to moderate acne were randomly assigned to three study groups. The omega-3 group took two capsules containing in total 1 g EPA and 1 g DHA. The GLA group took two capsules containing in total 200 mg GLA (as part of 2 g borage oil). The control group received no supplement. The study lasted 10 weeks, and progress was monitored at 2, 5 and 10 weeks compared to baseline acne intensity. Study subjects, 36 men and nine women, were guided throughout the study by qualified nutritionists to maintain their regular diet. The mean age of the volunteers was 23.7 years. No differences were found between the groups with respect to energy intake, glycemic load and index or nutritional composition throughout the study. Acne was scored following the
Leeds revised acne grading
system that employs standardized digital imaging of skin lesions. Scoring of acne counts and severity was performed by independent dermatologists. Study subjects were asked to self-evaluate the severity of their acne. Punch biopsies of acne lesions were taken at baseline and at the study end to assess inflammation by histochemical analysis.

Comparison of acne scores during the course of the study revealed that after 10 weeks, statistically significant improvements in acne were reported in the omega-3 group compared to the control group. Inflammatory lesions were reduced by 43% when compared to baseline, non-inflammatory lesions by 20%, and the acne severity score by 21%. The observed effect size of EPA/DHA supplementation was remarkably similar to that of GLA. Whereas no statistically significant improvements in acne severity were induced by EPA/DHA supplementation at week 5, the self-assessed acne scoring revealed that the subjects already perceived a significant improvement at that time. Subjective assessment indicated a 23% reduction in acne at week 5, which progressed to a 40% improvement by week 10. Histological evaluation showed a marked reduction in inflammatory cell infiltration in acne lesions as a result of supplementation with EPA/DHA after 10 weeks, accompanied by a significant reduction in interleukin-8. Interleukin-8 is a cytokine involved in neutrophil recruitment and activation, and is produced by sebocytes in the
context
of acne and exposure to
Propionibacterium acnes
.

Of interest, acne is being increasingly
viewed
as a disorder typical of a Westernized lifestyle and diet. The study showed independent improvements induced by either EPA/DHA and GLA supplementation. This raises the possibility that these fatty acids act on a shared pathway, or the possibility that used in combination they may bring about additive reductions in acne. The shape of the time course showing the progressive improvement in acne indices also suggests that longer treatments could bring about further improvements. In summary, this is the first controlled study that has addressed the potential benefit of oral intake of EPA and DHA in the management of mild to moderate acne in young adults. It needs to be pointed out that the study was not completely masked since control subjects received nothing and both treatment groups knew they were being treated. Future studies with improved masking of study subjects will be required to confirm the interesting results obtained in this study. Jung JY, Kwon HH, Hong JS, Yoon JY, Park MS, Jang MY, Suh DH. Effect of dietary supplementation with omega-3 fatty acid and gamma-linolenic acid on acne vulgaris: a randomised, double-blind, controlled trial.
Acta Derm. Venereol.
2014;94(5):521-525. [
PubMed
]
Worth Noting Bhate K, Williams HC. Epidemiology of acne vulgaris.
Br. J. Dermatol.
2013;168(3):474-485. [
PubMed
] Jung JY, Yoon MY, Min SU, Hong JS, Choi YS, Suh DH. The influence of dietary patterns on acne vulgaris in Koreans.
Eur. J. Dermatol.
2010;20(6):768-772. [
PubMed
] Khayef G, Young J, Burns-Whitmore B, Spalding T. Effects of fish oil supplementation on inflammatory acne.
Lipids Health Dis.
2012;11:165. [
PubMed
] Kwon HH, Yoon JY, Park SY, Suh DH. Analysis of distribution patterns of
Propionibacterium
acnes
phylotypes and
Peptostreptococcus
species from acne lesions.
Br. J. Dermatol.
2013;169(5):1152-1155. [
PubMed
] Leeds revised acne grading system.
http://carepathways4gp.org.uk/Acne_Care_Pathway/LEEDS_score_files/Acne%20Grading%20System.pdf
Melnik BC, Zouboulis CC. Potential role of FoxO1 and mTORC1 in the pathogenesis of Western diet-induced acne.
Exp. Dermatol.
2013;22(5):311-315. [
PubMed
] Nakatsuji T, Liu YT, Huang CP, Zoubouis CC, Gallo RL, Huang CM. Antibodies elicited by inactivated propionibacterium acnes-based vaccines exert protective immunity and attenuate the IL-8 production in human sebocytes: relevance to therapy for acne vulgaris.
J. Invest. Dermatol.
2008;128(10):2451-2457. [
PubMed
] Rubin MG, Kim K, Logan AC. Acne vulgaris, mental health and omega-3 fatty acids: a report of cases.
Lipids Health Dis.
2008;7:36. [
PubMed
] Suh DH, Kwon HH. What's new in the physiopathology of acne?
Br. J. Dermatol.
2015. [
PubMed
]